I'm a blog-o-holic - I follow several real estate and home decorating blogs like a sports fanatic follows ESPN. As a Realtor, I love looking at houses, so therefore, I can spend countless hours on the internet looking at houses and browsing for new decorating ideas. I stumbled across two photos on a
blog
dedicated to decorating, yet it applies to so many buyers that I've worked with that I knew I wanted to share. These two photos are so simple, but they say so much. They are "before and after" photos of a kitchen. Check them out below and see what a dramatic change took place:
BEFORE

AFTER

Impressive, huh? Any modern makeover is always exciting, but there's something even more exciting... Look carefully at the pictures. Do you notice that there are only 2 major features that are different? Paint and cabinet hardware. They painted the cabinets one color and the wood paneling up top another color for contrast. They also changed out the cabinet hardware and added a pop of color with the shade on the window. The tile backsplash is the same, the appliances are the same, the countertops are the same, so is the sink and the faucet. An updated and modern kitchen for $150 or so. The point I want to make to buyers looking for a home, is to look with an open mind and think of the simple changes that you can make to update a house and make it your home. Need inspiration? I've got 1254 home decorating blogs that I can send you links to! :)
There's also a moral of the story for sellers - can you guess what I'm about to say? You should also think of the small things you can do to update your home and make it more appealing to buyers. The kitchen is one of the most important rooms of a house when it comes to selling. A tranformation like this would be well worth the $150!!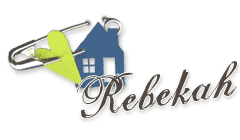 Serving the Southern Crescent of Metro Atlanta: Henry County, Clayton County, Fayette County, Coweta County, Spalding County, Pike County, Rockdale County, Butts County, etc. McDonough, Stockbridge, Locust Grove, Hampton, Jackson, Conyers, Fayetteville, Brooks, Tyrone, Peachtree City, Senoia, Newnan, Sharpsburg, Griffin, Barnesville, Riverdale, Forest Park, Jonesboro, Rex, Morrow, East Point, Hapeville, etc.