This week, our company featured us in our weekly company newsletter and spotlight. We thought we'd share some of the interview so that you guys could get to know a little about us. At the end of the day we're just normal gals who enjoy life and love our job (and we happen to be good at it too - not bragging.....just saying :)
We think it's important that buyers and sellers pick someone with the right expertise and knowledge to advise them in this tough market, but in our humble opinion it's just as important to choose someone that you respect, trust, and get along with. Personality conflicts do occur in real estate relationships. Maybe by reading these questions and answers below you'll see what kind of people we are at heart and learn a little more about us.
Melissa and Rebekah Stephens:
A Home-Grown, High-Performance Real Estate Duo
Office:
Stockbridge (but they work all of South Metro Atlanta - Henry County, Clayton County, Fayette County, South Fulton, Spalding County, Newton County, Rockdale County, Butts County, Coweta County, and more).
Years with BHGRE Metro Brokers:
1
Years selling real estate
: 11 years combined
PERSONAL
Family: Speaking of family, we're sisters and business partners!
Melissa: Married with 3 children – two daughters (ages 12 and 7) and one son (in his terrible 2's).
Rebekah: Married with a very spoiled 2-year old black lab, Dooley.
Hometown:
We were born and raised just south of Atlanta our whole lives. In fact, we're so homegrown that we graduated from the same high school that our parents did.
Education:
Melissa: Bachelor of Science in Business Management from Clayton State University.
Rebekah: Bachelor of Science in Integrative Studies from Clayton State University.
In my previous life, I…
Melissa: Started working as an administrative assistant for a top producing real estate agent at the age of 15 and went out on my own when I became licensed.
Rebekah: Worked as a relocation coordinator in the corporate office of another real estate firm throughout college and then obtained my license.
My idol:
For both of us, it's our parents. They always put us first and raised us to be very strong, individual women who trust in God, work hard, and are honest. They've shown us how to love and live well.
Greatest accomplishment:
Melissa: Being a mommy. There's just nothing like it.
Rebekah: Beginning a career in a depressed real estate market (2008), sticking with it, and becoming successful.
If I could do anything in the world, I'd…
Melissa: Learn to speak Spanish. I took three years in high school and two semesters in college and still can't speak the language. It would be a fantastic asset for me.
Rebekah: Open a restaurant. I've envisioned it for years down to the menu, the décor, etc.
How do you relax?
Melissa: Laying in my hammock in my backyard or swinging on my front porch swing. Either way, I'm usually reading a magazine or book and sometimes enjoying a glass of wine.
Rebekah: I tend to spend a lot of time on the internet following several blogs (real estate, home decorating, cooking, etc). When I have a chance to relax, I kick back and catch up on my blogs.
Biggest pet peeve:
Melissa: Laziness! I can't stand someone who won't work hard or expects a hand out.
Rebekah: Rude or unfriendly people! Ugh.
Lesson learned in the last year:
For both of us, it's that persistence and hard work pay off.
If we were to write an autobiography, the title would be:
"A Day in the Life of a Realtor: What You Didn't Know About Real Estate." We've always joked about writing a book comprised of all the funny, quirky, and weird things that have happened to us. At least once a week we say "that's one for the book."
Favorite movie or book:
Melissa: Call me sappy, but it's "The Notebook" by Nicholas Sparks. It's a book and a movie.
Rebekah: Same as Melissa – I guess we're typical girls!
Favorite quote:
Melissa: "You only live once, but if you do it right, once is enough." Mae West.
Rebekah: "We tend to forget that happiness doesn't come as a result of getting something we don't have, but rather of recognizing and appreciating what we do have." Frederick Keonig.
I handle stress by…
Melissa: Taking some time off, whether it's five minutes, an hour, or a day.
Rebekah: Still trying to find a way to manage stress, especially when related to real estate. I tend to freak out, but venting to my sister, mom, or husband normally helps.
If we didn't sell real estate, we'd…
Open a restaurant named after our grandmother and serve up her famous southern cooked food.
BUSINESS
Volume/Transactions in 2011: 44 transactions totaling $5.4 million (so far)
Primary focus in real estate:
We feel that the smartest thing to do in this market is to diversify and that's what we do. With the exception of commercial, we work most everything else including REO, re-sales, short sales, and buyers.
What trends do you see in the market?
In south Metro Atlanta, we're still seeing continued depreciation amongst our re-sale homes. One of the most recent instances is a re-sale townhome where average sold comp prices have dropped $10,000 in the last 45 days due to new foreclosure comps. We think it's important to advise our sellers to be aggressive with their pricing from the start because there are still so many foreclosures coming to the market.
Best advice you can give your clients:
We feel very strongly that this market presents the best time in history to buy a home, investment property, etc. Prices are at all time lows and interest rates are incredible but it won't stay this way forever. We've made it our personal goal to educate everyone that will listen and encourage all of our potential buyers to buy. Our grandparents purchased their homes in the late 1950's/early 60's for more than what a buyer could purchase their homes for today.
Advantages of working on a team:
The power of two people. We can play off of each other's strong points. Melissa works better with some clients and Rebekah with others. We are also able to split the work load up. Plus, there's always someone there to "have your back."
What do you each feel your strengths are and how do they complement each other?
Rebekah: I'm more creative, technically savvy, and great with marketing.
Melissa: And I'm more detail oriented and great with negotiations.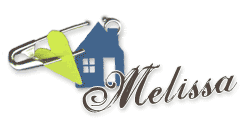 &